HubSpot
Senior Product Designer
Working cross-collaboratively with people of different disciplines to build something that hasn't been built before.

Advocating and educating peers and leaders regarding the benefits of user-centric methodologies and strategies. Incorporating design thinking into actual work to see immediate benefit and value to customers and the organization.
Notable accomplishments
Works in triad (product, engineering, design) to prioritize, triage and set strategy for the HubSpot Network
Led workshops and design sprints across organization
Co-led UX research initiative to discover unknowns
Utilized prototyping to create flows to test hypothesis with users
Network adoption met and exceeded initial estimates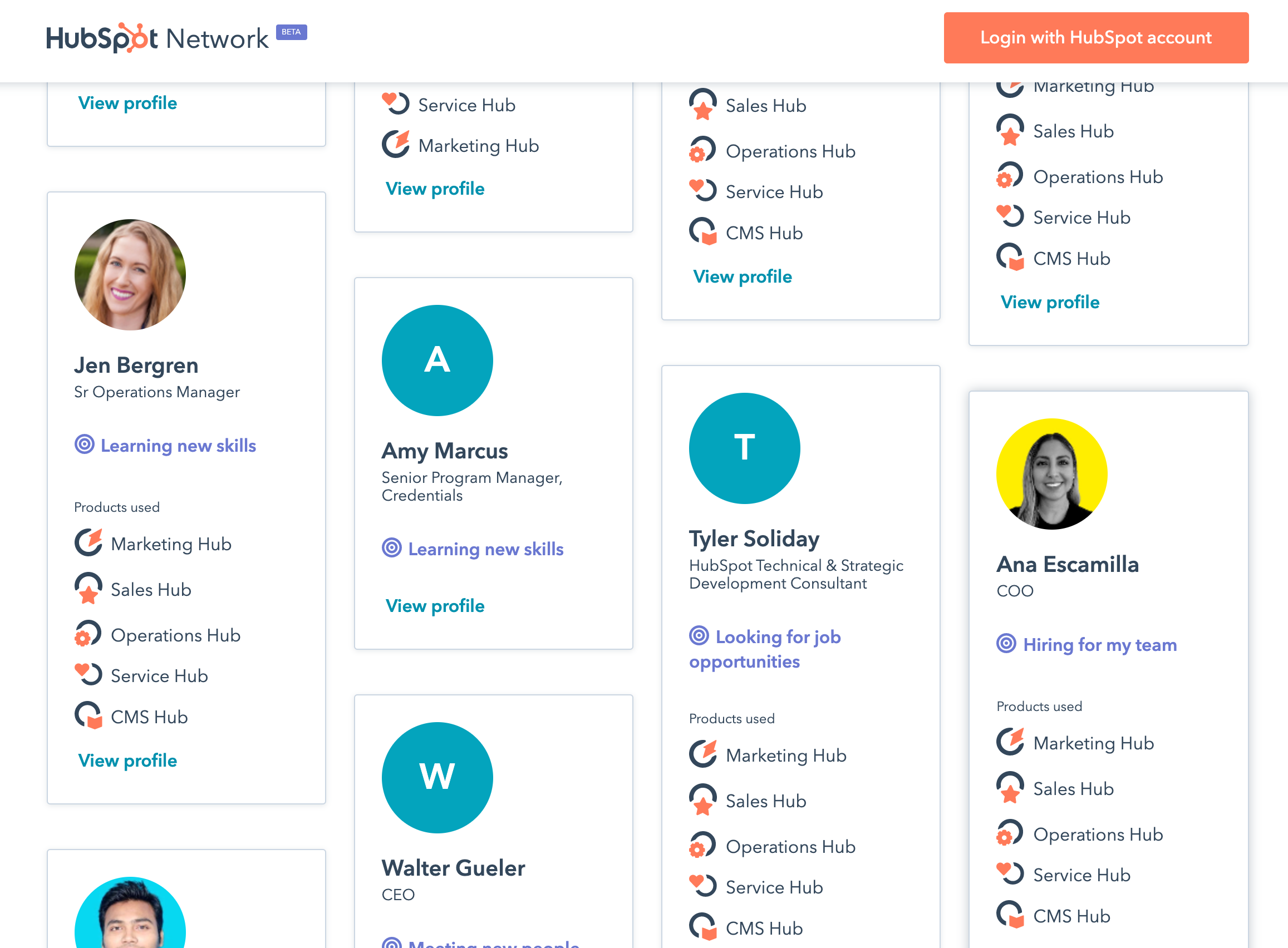 Case StudyNetworking in a LinkedIn worldLet's connect…
Atlassian
UX Designer
With over 2 million community members contributing over 850,000+ posts, the Atlassian Community is the premier place to connect, share and learn all things Atlassian. It was my responsibility to ensure ease of use for all roles of the community.

I had the amazing opportunity to work with community management, front & back-end engineers, and great product management. It was my role to bring design thinking into the weekly agile sprints as well as overall strategy for the community.
Awards
Won the 2019 Marketers That Matter (Customer Experience and B2B Marketing category) Award
Notable accomplishments
Evaluative research to accompany generative research
Designed the core functionality of the community
Designed the activity feed
Configure email subscriptions settings
Advanced search
@mentions
Search alerts
RSS Feeds for individual questions and discussions
Previews for article writers
Redesigning global navigation
Community Feed aka personalized feed on homepage
Localized ad for in-person events
Online groups feature
Enhanced profile pages
Removed friction from asking a question in community
Improvements to the accept answer button
Likes on comments
Implement OpenID connect for SSO login
Improved category selection when posting to the community
Initiated and led the Experimentation/growth program
Ran over 50+ experiments on various parts of the community
Atlassian Documentation integration
Amazon
UX Designer
As part of the Products & Services Discovery group, I was responsible for creating new experiences on the amazon.com website that both informs and delights hundreds of millions of customers in the discoverability of the products and services that they need and want.
Notable accomplishments
Successfully designed a path forward for customers to decrease time spent on comparison shopping that resulted in lower degree of difficulty scores as well as higher sentiment ratings.
Worked on a program to help educate consumers of products that held an approval status that works with the Amazon ecosystem

Case studyImproving comparison shopping on Amazon.comRead on…
Spiceworks
Senior Designer
In my four year tenure at Spiceworks, there wasn't any kind of work that I didn't do. Which included everything from event branding for a 2,500+ person annual conference, identity work on sub brands for the company, then eventually shifted focus to the digital design domain. It was in that space that I was responsible for art direction, planning and implementation of data research solution products. Was the lead designer on crafting an internet resource hub of all of the online publications for Spiceworks.
Notable accomplishments
Led illustration system effort for multiple user conferences that included print, large-scale signage, exhibition space, and digital assets
Created the first digital format of research white papers for marketers
Owned art direction for multiple digital marketing campaigns
Assisted on corporate keynotes for company leadership
Dallas Theological Seminary
Associate Director of Visual Design
Given to my charge was managing the creative cohesiveness of all advertising pieces that would be featured in magazines and online media campaigns. During this time I was also part of the initial planning and exploratory process for a website redesign.
the Ohio State University
Media Specialist, Production Assistant
Designed and created an email newsletter for faculty and staff of the Ohio State University. Video work included pre and post production. Responsible for digitizing media and making content available for online distriubtion.
Bostwick Design Partnership
Graphic Design Intern
Charged to redesign and streamline the website into a more productive and better aided experience. The gallery section of the website was created to mirror the intentions of the firm; to create an atmosphere where dates could be sifted through without feeling overwhelmed but also maintaining a captive audience.